Courtney Thompson the Solo Senior
Q-Since this is your 4th year playing with the Lady Dutch, which year was your favorite year to play?
A-I think this has been my favorite season to play. Our team this year is very very close and that makes it very fun, but also the girls on this team work very hard and push one another in practice fighting for us to be a team that can accomplish our goals. Even though I had a lot of friends in the past years, and we may have had a better record, I wouldn't change this season for the world.

Q-Being the only senior on the team, what are some ways you have provided leadership to the others?
A-Leadership has been something that we talk about a lot this season, and it is very important since most of us haven't had a tremendous amount of varsity playing time in the past. Some of the ways I have been a leader this season is being open and honest with the girls and pushing them all in practice because of the goals we agreed that we all wanted to reach. Personally I am a very vocal leader and use my voice and energy to lead the younger ones on and off the court.

Q-What do you think you have improved on most this season? What are some things you did to help you improve on that?
A– I think one of the areas I improved most on this season is being confident in my shot and recognizing when others are open. I improved on this through practicing and building myself up when thinking about shooting.

Q-What do you usually do to prepare for games?
A-Before games our varsity team watches and supports our JV team until halftime then goes into the locker room to mentally prepare and get ready to play. Usually, there is a lot of dancing and singing involved in the locker room.
Q-How do you stay motivated after you lose a game?
A-Usually when we come up short in a game, we know exactly what went wrong and the little things we need to work on the next day in practice. One of the biggest things that keeps me motivated through losses is my teammates having confidence in me and everyone having confidence in each other. This year our team has great cohesiveness and works together very well which helps when we are playing on the court.

Q-Which team has been the hardest to play this season? Why? A– I think the hardest team we have played this season was probably North Polk. We played them very early in the season when we were trying to find out an identity as a team, and they are a very good team. North Polk was the runner up last year at state and didn't lose many seniors whereas we had lost a lot of seniors from last year. Since this game, I think we have progressed dramatically, and I feel like playing them again could come with a different outcome
About the Writer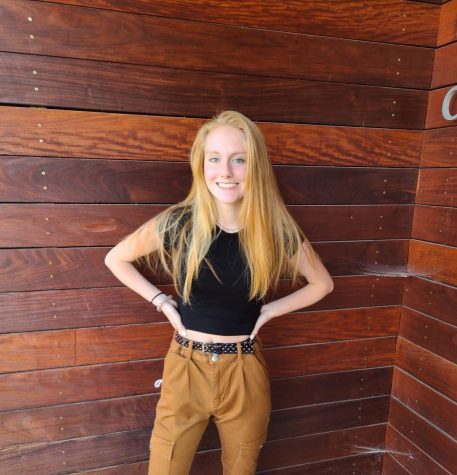 Isabella Scales, Reporter
Isabella Scales is a sophomore at Pella High. This is her second year being part of the media staff. In her free time, she likes to hang out with friends,...