Senior Profile

Name: Samantha Boetger
Activities I've been involved in: Yearbook (4 years), Newspaper (Senior year)
Future plans: My future plans are to attend DMACC in Ankeny for two years and get my associates degree, then transfer to the University of Iowa and major in something in journalism. While living in Ankeny, I plan both go to school and work. I hope to major in something connected to journalism. I'm just not totally sure what I necessarily want to do yet.
Favorite Pelladium article: My favorite pelladium article that I wrote was all the ones I did for entertainment because they never had to be super serious, and you could really take it where you wanted to take it. Like my cat sweater one I wrote, it was just random and I could choose cute cat sweaters to put into the newspaper. Also my next favorite were my columns for the same reason, because I had my own choice of what I wanted to write about. Joining the Pelladium was a challenge because I have been used to writing stories for yearbook for the past three years, and it's a total shock how different writing for a newspaper can be.
Funniest Moment in high school: One of my funniest moment in high school was my freshman and sophomore year. I had study hall with Kiki Pingel, and we would laugh literally all the time over the most random things, and it always has stuck in my head because that's how random and weird we were. We would be laughing so hard we would be crying. The next funniest thing that happened in high school was watching the class of 2016's senior boys trying to get a huge pig into the school.

Name: Jenna Murphy
Activities involved in during school: Newspaper, volleyball, track, student ambassadors
Future Plans: I plan to attend Iowa Wesleyan University to major in business. I will play volleyball at this university. After college, I aspire to be a realtor and sell land/houses to people.
Issues in which you are most concerned: I am most concerned about different education systems, human trafficking, rape, feminism, different religious views, and the increasing expense of college increasing.
Favorite Pelladium article or project: My last article was my favorite because I got to chose 5 things I think the students won't miss about highschool. It is fun to see if people agree or disagree with my thoughts. It was a short and easy article to write, which I don't normally do anyway, so it was fun for me.
Funniest moment in high school: My funniest moment in high school is kissing Josh Zemanek on the cheek in front of my Spanish class, holding up a misspelled censored sign, for a skit. My second funniest moment is falling down the stairs to go to lunch with The Grant Judkins watching it all happen.

Name: Chandler Jahner
Activities: 4-H, FFA, County Council, National Honors Society, Student Council, Newspaper, Dollars for Scholars, Thespians, and Football.
Future Plans: I will be majoring in Agricultural Business and minoring in communications at Iowa State University this fall. I chose Iowa State because of its amazing opportunities. I am an opportunity seeker and a leader by nature, since I wished to further my education in agriculture and was looking for more opportunities, Iowa State was the obvious choice. My hopes for the future is to graduate from Iowa State with a four year degree in Agriculture Business, and then eventually receive my masters in that field. After graduation, I wish to stay in the Midwest to start a family and raise sheep at my grandparents farm. It is my dream to work for a seed company as a representative for their organization in sales.
Issues in which you are concerned: The issue I am most concerned with right now is the loss of our innocence as a society. Long gone are the days when you could take someone's word as sincere and honest. Everything has to have some alternative motive; there has to be some kind of other plan running at the same time. It feels almost impossible to simply hang out with a friend anymore without some kind of drama or issue sparking. You cannot be interested in an idea or passionate about something or someone without people giving their "two cents" on it and disapproving in someway. I realize that has always happened, no matter what time era, but we have shaped ourselves to have to listen to these opinions. We are forced to listen and adapt to these opinions and it is slowly tearing us apart.
Favorite Pelladium Project: I am not entirely sure this would count as a project, but more of a series, that being "The Car Guy" and "Junk of the Month." This opportunity has made my time on staff really fun and memorable. I loved the ability to share my passion for the world of automobiles and storytelling with others. It was phenomenal to be able to unique and creative each issue, and it was cool to hear feedback from others about what they thought. It allowed me to really speak to the audience. "Junk of the Month" allowed me to further get involved with students and share their stories. It gave me the opportunity to recognize the awkward and weird of everything that is going on in our school. It was a blessing to do.
Funniest moment in the high school: I would say the funniest moment for me throughout all of high school, looking back was a flub up that a buddy and I had. In FFA, there is the option for the senior girls to run for "Chapter Sweetheart," which is a very prestigious honor for a girl to receive. Anyway, in years past, the chapter merely voted on who the sweetheart should be because there was no application. Well my friend Zack and I were FFA officers at the time, and God knows why, we were tasked with putting together this application. Now at the time, it was a running joke in the chapter for Zack to ask if a girl we were talking about was "hot." With that being said, he thought it would be a great idea to put that in the sweetheart form. The question read: "Are you hot? Yes, Maybe, or No." Then they had to explain why they were hot. Obviously, it was meant to be a joke not taken seriously. At the time, I laughed and advised him against it. He then convinced me that it was fine because he was going to send it through his email account. Things were not fine at all. After sending the form out for a day or so, I was called to the office and was instructed to see Mr. Muller. I walked into his office and I saw Zack bent over a computer, distressed. Mr. Mullers exact words were, "Chandler were you aware of a form being sent out with the question, are you hot on it?" Fun fact: those are words to put the fear of God in you. Over the next twenty-four hours, we had to talk to a school board member and write an apology letter to all applicants. To this day we still get crap about sending that application out. However, I will say this; I, one, regret nothing, and two, overly enjoy the fact that some of the girls did actually explain to us why they were hot!

Tate Petty:
Tate has been involved in football, wrestling, choir, show choir, National Honor Society, large group and individual speech, and soccer over the past four years at Pella High School. After graduation, Tate will be attending the University of Iowa to pursue a degree in political science. He has intentions on going to law school and specializing in corporate law.
Tate is concerned about the minimum wage in America and believes that it must be raised to something more livable around the nation. He has lobbied for this at the state capitol in Des Moines.
Tate's favorite Pelladium article(s) were the tweets in every issue. He also greatly enjoyed working on numerous video projects with his Dier(s) friend Kobe.
One of the funniest memories of high school for Tate was when Trevor Nelson nailed Mr. Rasmussen below the belt by accident at lunch during junior year.

Kobe Diers
Kobe has been involved in basketball, football, peer PE, and National Honor Society over the last four years at Pella High. He plans to attend the University of Northern Iowa as a business major. Kobe is very concerned with the issue of who will lead the Pella Dutch football student section now that he and Cole Swanson are graduating. His favorite Pelladium project was anything that he was able to do with his great friend Tate Petty. Kobe's funniest moment from high school was anytime that he and his friends would start throwing food at people during lunch room. It is very entertaining and he recommends it to everyone.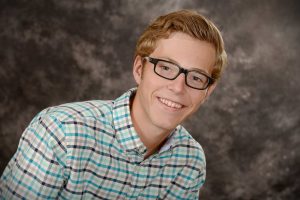 Name: Caleb Piersma
Activities: I have been involved in during high school: Baseball for 4 years, band for 4 years, jazz band for 3 years, basketball for 1 year, student council for 2 years, Pella Ambassador Program for 4 years, National Honor Society for 2 ½ years, Newspaper for 3 years, Peer Art for 1 year, and Peer P.E. for 2 years.
Future Plans: I plan on attending the University of Northwestern, St. Paul. I plan on majoring in Communication studies with either minoring in youth ministries or political science. I will be playing on the baseball team, and I will be on the newspaper staff as well.
Issues in which you are most concerned: Education system today in America and Iowa specifically, racism and feminism in America, Religious freedom for Christians and the difference between freedom of religion and discrimination.
Favorite Pelladium article or project: My favorite Pelladium article was probably the Planned Parenthood article or the NFL protests. Those two opinion articles were fun to write because it was what I thought, backed up with facts. Also, having to sift through alternative facts and fake facts was fun to have to dig through and find for my article.
Funniest moment in high school: My funniest moment in high school was probably newspaper class with Jenna and Chandler. Everyday was a funny moment, and I can't really choose one moment, mostly because I can't remember all of them.
Name: Izaiah Coulter
Activities: Football and Soccer
Future Plans: Izaiah will be moving to Muscatine, Iowa to live with his grandparents. He will be going to Kirkwood for one year, and after that, he will be transferring to UNI, and he is unsure what he will be studying.
Issues most concerned: Izaiah is most concerned with who is going to be the next swag of the month. He thinks that it's not possible to even do another because his Prius is superior to all.
Favorite Pelladium article or project: He really enjoyed the April Fools addition of the newspaper because it allowed everyone to make up their own random story and try and make it as interesting as possible. Izaiah thought it was fun to be able to mess with people that look at the newspaper. He thinks there should be a story in the paper every month that is not true. He thinks it could spark interesting conversation between students and could be interesting.
Funniest moment in high school: Izaiah thought that skipping school with his friends and being the only one that didn't get a detention was funny.