Michelle Chaplin Resigns from Pella Community High School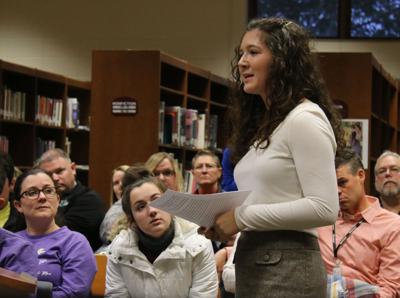 On January 15th the Board of Education accepted Michelle Chaplin's resignation, ending her time at Pella High. To show their concern for the choir program, students and parents took it upon themselves to attend the school board meeting that addressed Chaplin's decision to leave the school after the school year.
One student concerned with this decision is senior Luigi Lopez. Lopez has participated in show choir, advanced choir, all-state choir, and madrigals throughout his high school career. Lopez attended the school board meeting in hopes to express the importance that Chaplin had on his life.
"It was good that every student and parent showed their care and respect for Mrs. Chaplin, as well as for the vocal department," said senior Wolfpack Leader Luigi Lopez.
The meeting was full of emotion by parents, students, and friends, offering support for Mrs. Chaplin and Vocal Arts as a whole. The Board listened to all who spoke, taking their view into account.
"It impacts many students because we all love and respect her in every way, shape, and form, even in this tough decision," said Lopez.
Towards the end of the meeting, superintendent Greg Ebeling spoke and made clear that the administration and the Board supported Vocal Arts and Show Choir. He stated that the administration does not wish to change any of the programs within the Vocal Arts department and they hope to find a new director with a passion and dedication for Vocal Arts and Show Choir.