Pella Community acquires new jumbotron
There have been many questions about the new Jumbotron that was recently added to the football field at the end of last year. It is now used for football games and other events that take place on the field.
Many people believe the school paid for the new Jumbotron on the football field. However, the Jumbotron was donated to Pella High School by Precision, Inc., the corporate brand for Precision Pulley & Idler (PPI) and Precision Food Innovations (PFI).
"We had an advertising program that was a scrolling sign below the scoreboard, but it broke down. Ever since it broke down, the old sign was becoming costly to repair. The sign that broke down was a traditional style," said Athletic Director Dale Otte. "With technology, we decided to go digital and looked at our video board options."
Otte found the best option that other schools have been using. He asked if Precision would be willing to fund the project, and the company wanted to help. The main contact was PFI Senior Vice President, Greg Stravers.
"The original intent of the video board is a revenue generator for the department because it supports our activities. The school relies on ticket sales and things like that to support the needs of the athletic program," said Otte. "It started off at that and now is starting to enhance the game experience."
Central College has also received a new Jumbotron from Precision. 
"Precision is an employee-owned company, so we really want to have an impact where we live and work.  We care about giving back and want people to see that in their own backyards, their neighborhoods or their towns," said Precision, Inc. CEO Roger Brown.  "We are advocates of all aspects of education, including extra-curriculars such as athletics. The community enjoys coming together to support students, and when the fans and players look up at those scoreboards, we want them to be thinking of us as a company they would like to be a part of."
Bryleigh De Jong ([email protected])

About the Writer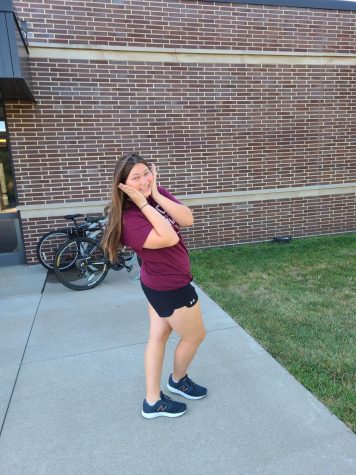 Bryleigh De Jong, Reporter
Bryleigh DeJong a junior in high school, She has 3 sisters, and is 16 years old. NO! She would would always describe herself as an old soul, and lives...