Godzilla vs Kong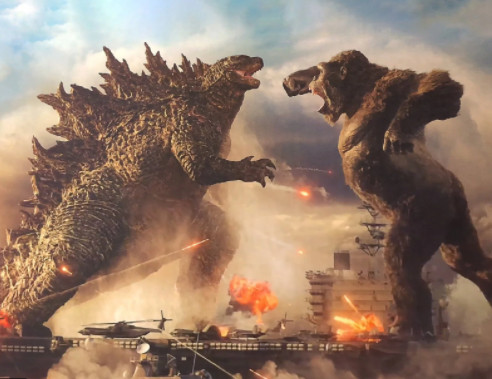 Godzilla vs. Kong
Godzilla vs. Kong is the last film in the cinematic universe known as the "Monsterverse," consisting of the movies Godzilla (2014), Kong Skull Island, and Godzilla: King of the Monsters (2019).
Why is This One Important
Since 1962's King Kong vs. Godzilla, attempts were made to try to bring these foes back together for a rematch until these projects were abandoned due to legal rights to Kong. But not this one! The movie has been built up since 2017's Kong Skull Island and built up more in 2019's Godzilla: King of the Monsters.
Delays
Godzilla vs. Kong's first delay happened when they pushed back the release date from March 13 to November 20 because the filmmakers wanted to polish the animation. It was delayed one more time due to COVID-19, setting it back to May 21, 2021.
Promotion
In May 2019, the first promotional one-sheet poster was revealed at a licensing expo. In February 2020, Toho and Legendary announced the Godzilla vs. Kong Publishing Program and licensees. Through the publishing program, Legendary plans to release two graphic novels, one following Godzilla and the other following Kong, an art book, novelizations, and a children's book. Amongst the licensees named were Playmates Toys, Bioworld, Rubies, Funko, 60Out, and the Virtual Reality Company.
What's been Leaked
In December 2019, a brief clip was revealed during a Warner Bros. reel at a Comic Con.   Later on it was leaked online. The clip revealed Kong jumping down getting ready to punch Godzilla. In April 2020, images of toy figures were leaked online, revealing different forms for Godzilla and Kong, and other monsters that will appear.
Who's all in Godzilla vs. Kong
The cast of Godzilla: King of the Monsters will return for this one. But the thing we want to know are the monsters! Warning, there are spoilers, so don't read this part if you want it to still be a surprise. We know Godzilla and Kong are going to be in the movie. And we know a Skull Crawler from Kong Skull Island will return. We have a new monster named Warbat that looks like a cobra-like monster with wing-like appendages. And we have a returning Godzilla monster not seen in a Godzilla movie since 2003, Mechagodzilla!