Book Talks with Mrs. Roberts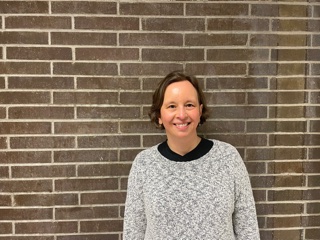 Q and A with Jill Roberts 
Q: Why did you choose to be a librarian?
A: I chose to be a librarian because I enjoy books and working with a wide variety of students from different grade levels.
Q: What is your favorite book? 
A: My favorite book is Lilly's Purple Plastic Purse because the pictures in the book are really reflected in the text, and there are a lot of clues in the pictures that foreshadow what is going to happen next in the book.
Q: What are your hobbies? 
A: In my free time I enjoy cooking and baking. I also enjoy attending art galleries, traveling, and reading obviously.
Q: How do you think this library impacts the school? 
A: This library has a good selection for students to read. It has both fiction and nonfiction, so students can use these for projects. This library is also a gathering spot for students, and I think that it is a welcoming environment. 
Q: What are your plans for the next few years? 
A: My plans for the next few years are to still be working here, and I hope to visit my son when he goes to college.
Q: What do you like the most about your job? 
A: What I like most about my job is the variety of working with all the teachers in the building and meeting with students. 
Q: What is the most challenging aspect of your job? 
A: Something that is challenging about my job is that I don't have a specific department in the school, so sometimes I feel a bit isolated in the building.  
Q: If you could give any advice to high school students, what would it be?
A: My Advice would be to make sure you pay attention to deadlines and don't be afraid to ask for help. It doesn't have to be a teacher; it could be anyone.