Q & A with Marissa Ferebee – Fastest Runner in Pella High History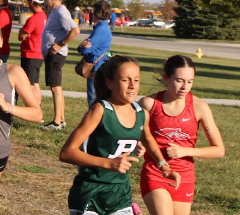 Q: Is it true that you are the 2nd fastest in Pella High History?
A: Technically, I am the fastest as of the State Qualifying Meet. 
Q: What is it like to be a freshman on varsity?
A: My goal from the beginning of the season was to be on varsity. Now that I'm on it it's pretty cool, and it's just fun to hang out with the upperclassmen. Also to know that all of my training over the summer paid off.
Q: Which upperclassmen has been most helpful to you?
A: All the upperclassmen are really great. Maddie Schmitz would drive me to our practices that were at the Sports Park or Central. Then over the summer I trained with Jacie Trine, and she always just encourages me all the time and is very inspirational to me. Everyone on the team and everyone on varsity, I look up to them all.
Q: What so far has been your favorite cross country memory?
A: I can't really pick one of them; the team is really great. We do a lot of fun things, like all of the team meals are pretty great. Also long run Saturdays where we just talk the entire time are very memorable because we are running and we're tired, so we're just talking about random things. Also just hard workout days when we just hang out are also amazing.
Q: What is your current PR?
A: Right now it's 18:52.
Q: Do you have a goal for state or next year? If so, what is it?
A:I haven't thought about next year, but for the State Meet I am going to try to get it down to 18:30. Which is possible, but then just making sure that I finish as well as I can.
Q: What were some challenges you had to overcome this season, or what was the most challenging course you ran this year?
A: We raced a very hard schedule so all the hard courses were at the beginning of the season. Like Ballard was a hard course just because it's full of switchbacks, so you just run the same thing multiple times. Then Hillcrest is a three loop, and there's a lot of hills in there, that was my first course leading alone and that was very stressful, very much a mental game. The hardest thing about it was learning how to run by myself. The beginning of the season I would run with people, and it's a lot easier to run with people than it is by yourself because you feed off of each other's energy, but I had to take the step and run by myself which was very hard, but now it's going well.
Q: How did you prepare for the tougher courses?
A: Our training the week before a meet, our training reflects the difficulty of the courses. For example if it's a very hilly course, we will run hill repeats or if it's more flat we will go out to the sports park and do repeats there.
Q: Have you always enjoyed running? If not when and how do you think it started?
A:I did not always like to run. I started to run during Covid. I didn't really like it then, so last year I thought to give it a try, and I wasn't the greatest last year, but I found a love in running, and this summer it just continued. Now I like it even more.
Q: Is there anything else that you would like to include?
A: I just want to thank all of my coaches and all my teammates because this has really been an unforgettable season, and I'm so grateful for everyone who has helped me become who I am today.