Pella High Honors Van Horn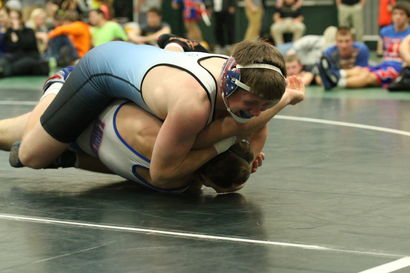 It is hard to find an alumni of Pella High School who doesn't have something good to say about Bill Van Horn. Bill was the Athletic Director here for 14 years, and he was a teacher and a wrestling coach for 36 years.
"Bill never met a stranger and he was always willing to give a helping hand," said special education teacher April Gruver. He played a vital role in building and the athletic program, but more importantly, he built athletes – physically and emotionally. He helped students build character, shape attitudes, and serve others. He was a people person, you could always count on him to have something positive to say and a good story to tell.
Van Horn's wife, Margene, also worked in the district for over 35 years. The couple left a forever lasting mark on the Pella Schools. Throughout the years of serving the school district Van Horn saw 5 state team championships, 8 individual team championships, 50 state appearances, and 90 conference wins. He took the most pride in seeing teams' progress throughout the season.
Bill retired in 2011 and sadly died in 2012 of liver disease. In honor of Van Horn's memorial the school dedicated a annual home wrestling tournament to him called the Bill Van Horn Invitational. There is also a trophy in honor of Van Horn awarded to schools in the Little Hawkeye Conference that show the most sportsmanship and character throughout the athletic seasons. The Bill Van Horn memorial trophy is called the Bill Van Horn Little hawkeye conference all sports award. Pella has brought the trophy home every year since 2012. Although most underclassman and upcoming grades are not familiar with who Van Horn was or what he did, the name will always remain in the school and memories of many students and staff.
•Caleb Vitullo, [email protected]