Smart Spaces Can Improve Academics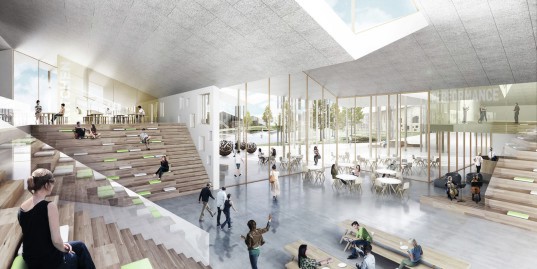 It is hard to ignore the massive renovations that Pella High has been through the past few years. Through the construction, Pella High School has been transformed to something more reminiscent of a college campus. Students can use their free time and extended lunch hour to study, eat or relax in designated spaces. In addition to these spaces, there have also been drastic transformations to the interior design of the school. Changes like color scheme and furniture help amplify the college-like atmosphere.
In fact, the changes made involving the physical environment of Pella High may be helping students learn better. According to research done by the University of Salford in England, physical environment can affect the academic progress of a student as much as 25%. Big contributors to the physical environment include bright light and color. Both of these aspects have been highlighted in the remodel. Neumann Monson, an architectural firm from Iowa City, was in charge of the design and color schemes of the renovation. They decided to go with shades of blues and greens through furniture and accent walls. According to registrar Allissa Grandia, blue and green were chosen because they have been found to be soothing and help students focus in the classroom. Along with the incorporation of specific colors, more windows were added for a similar reason.
"Let's not forget the amount of natural light that now enters the building by the addition of the new skylight and the wall of windows in the commons and fitness center. Natural light has proven to uplift one's mood and provide more energy. This by far has been one of my favorite additions to the high school," shared Grandia.
This, however, does not mean that the school is without faults. Despite the improvements, hallways are still often crowded and the lunch room can be hectic at times. The aforementioned research also found that crowded rooms and a high-density of students can have the opposite effect on students, causing student achievement to decrease. Hanna Kendall, a sophomore, has found that crowded hallways have become a necessary evil.
"The hallways by the lunchroom are not very pleasant, especially if you brought your own lunch and want to get through without buying lunch. It's a sacrifice I think we're all willing to make in order to have more freedom," said Kendall.
While construction goes forward, more changes will continue to be introduced. So far, students, like Kendall, have been open minded about the construction and the improvements and challenges that come with it.