Meet the Debate Coach- Jill Roberts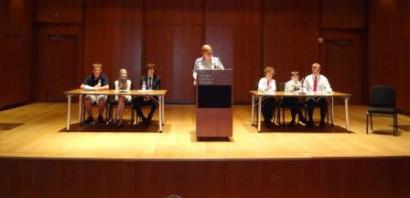 This is librarian and technology
This is librarian and technology integrationist Jill Robert's 2nd year coaching debate. The team grew from a group of four to a group of eight. I got to interview her on the debate team and how it went.
Q:  What do you do to coach the debate team?
A: I help students figure out how the debate works, put them on a team, figure out schedules, coordinate things, and help the students get a better understanding of debate.
Q: What were the challenges you faced in debate this year with Covid?
A: All of our debate switched to Google Meet, and we had to get the students used to Google Meet because some of the kids never did debate, so I taught them how to debate and how to use Google Meet. They also had to wear masks, so it was hard to hear some of the debaters.
Q: What were your debate topics?
A: The first topic was Medicare for all; the other one was first use of nuclear weapons.
Q: What was one of your favorite parts of debate this year?
A: I think seeing how the students progress and how they became confident with their speaking skills and getting a better understanding debate.