Pella Student Accepted to West Point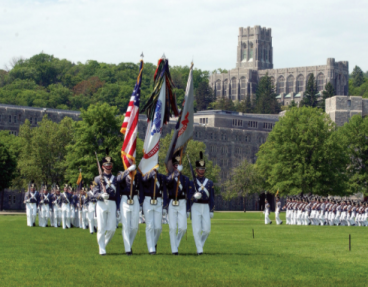 Dwight Eisenhower and Mike Pompeo, as well as Robert E. Lee, Ulysses Grant, and many other famous leaders graduated from West Point, also known as the United States Military Academy.  The school in New York is a four-year federal service academy, meaning that students are paid for their service instead of having to pay tuition.  West Point is known for its high standards; in fact, the academy accepts only about 12% of its applicants.  Acceptance is quite an honor, and this year that honor was granted to a senior at Pella High: Tony Schmitz.    
"I decided to apply to West Point because I was previously interested in joining the military," he said.  "I've had many family members in the military, and that's influenced me in serving my country and becoming a successful leader."
Schmitz looked at several military programs but especially liked the opportunities West Point offers in "academics, extracurriculars, military training, and various career paths." Several of the unique opportunities that Schmitz is looking forward to include study abroad programs as well as numerous sports, clubs, and military-related activities.  
Because of West Point's high standards, the application process takes longer than a typical college application.  Schmitz started the process the summer after his junior year.  Besides submitting the usual requirements of ACT scores, transcripts, and list of activities and accomplishments from high school, he also had to submit teacher evaluations, essays, and letters of recommendation, as well as pass a medical examination and a physical fitness test. In addition, he had to be nominated by a Congressman and complete an interview. Schmitz said that since there are so many requirements, the application was sometimes tedious and overwhelming.
"The Congressional nomination process adds another layer of stress to the process," he said, "and having to wait to hear any news while constantly improving your application is difficult."  
However, the long time he spent on the application paid off.  He learned of his acceptance a few weeks after finishing the requirements.
"I was fortunate and did not have to wait long to find out," he said, "but many people hear back in March and April and all the way up through June." 
When he found out, he said that he was excited and relieved, even though the gravity of the news didn't hit him right away. 
"It was nice to know I had accomplished my goal, and I could definitively plan out the near future," he said. "I was excited to be able to experience all of the opportunities at West Point."
So after spending seven months on the application, then discovering his acceptance in just a few weeks, Schmitz now awaits June 28, when he will report to West Point and enter the basic training and school year.  
"The school years are pretty busy at West Point," he said, "and there are some training and internship opportunities during the summers, so I will be doing a lot in the next four years."  
After graduation, he will have required service time, and then he plans to stay in the military.
"The main challenge that I have heard about is the busy and regimented lifestyle at West Point," he said.  
The coursework and training are demanding, so it will be challenging to work under stress.
"The rules are pretty strict and the freedoms are limited as a freshman, which will make things difficult," he said, "but I look forward to the experience, and I know that there are numerous benefits to going through all of the work."