Pella Jazz One Goes to the Iowa Jazz Championships
On Tuesday, April 4, the Pella Jazz One was sent off to Iowa State University in order to participate in the Iowa Jazz Championships. They performed twice and secured the number one position as the Iowa Jazz Champions for the twentieth year ever.
In order to prepare for the event, the jazz band practiced every morning at 7:05 for weeks playing their four tunes: "Two Birds One Stone," "Ruby My Dear," "Blues in Hoss' Flat," and "Rhythm of Our World". They even hosted practice performances in the mornings for students and teachers who were willing to come and enjoy the songs. The Jazz One director, Mr. Robilliard, noted, "The band really stepped up in the last few weeks leading up to the event with added rehearsals, sectionals, and practice.  They made a considerable amount of improvement during that time."
After lots of packing, unpacking, an hour-long bus ride, and anxiety, the jazz band made it to Iowa State and arrived, soon enough, in the warm-up room.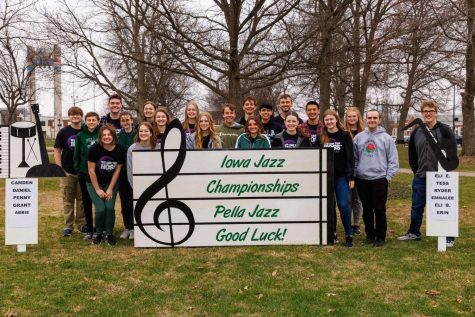 "It really felt like the band was peaking just at the right time.  I was looking forward to everyone getting to hear the band." Robilliard added. 
Following their first, and some would argue best, performance, the first session of awards came quickly with both Pella and Harlan High School placed in the two finals slots. 
Grant Anderson, the Jazz One pianist, mentioned, "I love performing all the time. I especially love performing for people that get way too excited about jazz because those people are my people."
All of the hard work definitely paid off; Jazz One placed first and was pronounced the 3A Iowa Jazz Champions. 
"I think, after all the work we've put in, it definitely was deserved. That's really weird to say because music is so subjective, but I really believe that," commented Anderson. 
Since 1982, the Pella Jazz One has secured the spot for the Iowa Jazz Champions now twenty times. 
Anderson added, "It's just like our director said on the bus ride home: 'Whether you're the lead alto with a solo or just crushing the heck out of a 3rd trombone part, everyone contributed to our success.'"