Decious Shares Her Gift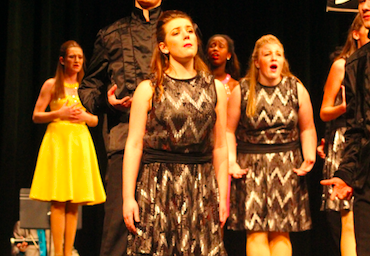 Dancing around the kitchen, and singing at the top of her lungs as a young girl, Taylor Decious found a passion that she would follow throughout her middle school and high school career and possibly into the future.
Decious grew up around music. She had always known her parents as singers, and her grandmother would sing church songs with Decious. She always knew about music.
"My family is what got me started but what motivates me is like if I had a bad day at school or something happened, and I hear a song, and I'm like hey that kinda sounds like something I relate to," Decious said. "So, I'll use it as motivation to sing and learn it and really study the words I guess."
Recently Decious sang a duet with Jake Schulte, a sophomore at Pella High. The video was posted on her Instagram account (@hannah.taylor.sings). The account was started in June of 2017. The account exists for the use of Decious and Hannah Tschetter, a fellow freshman. The account's most recent activity has been from the use of Decious alone.
"When you're in 8th grade or a freshman in high school it's kind of hard to sign up to perform somewhere or put on shows," Decious said. "So, like I wanted to share my gift, and I know that I've seen plenty of singing pages that have inspired me. I wanted to see if somebody could hear the right song at the right time or just share what I have. I don't feel like I was given this gift for no reason; I feel like I was definitely given this gift. This is just my personal belief, but to share God. God gave me this gift to help others."
For Decious her singing is a way of expression, a way for her to tell herself and others her feelings.
"I've never been good at talking and body language or whatever. So, singing is how I express myself," Decious mentioned. "And I've never been good at like talking about my feelings and like saying stuff like I'm sad because… And it's just easier for me to sing."
Credits to Mickayla Schlerman for this article