Teacher Games Day One Recap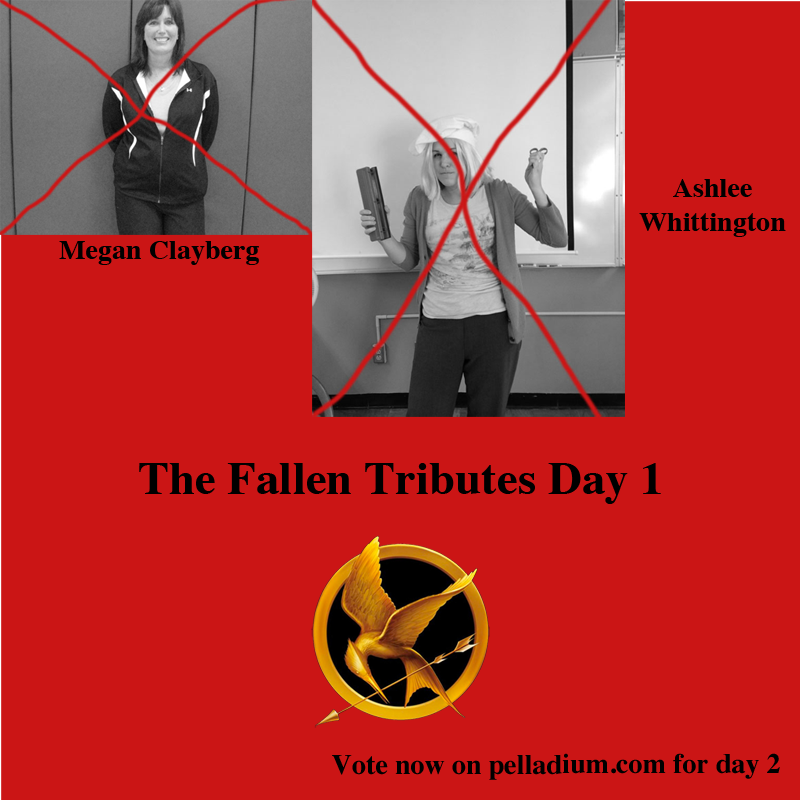 The first day of the games has concluded. 16 tributes entered the arena yesterday at noon. Only 14 remain this morning. When the games began, powerhouses like Cutler and Rasmussen sprinted full speed to the cornucopia, collecting all of the good weapons. Also at the cornucopia was Wade Van Vark, who quickly aligned with the two to form the ultimate triumvirate. The other tributes grabbed what they could and ran into the woods.
While the triumvirate pitched base camp where all the weapons were, the other tributes had different ideas. Deep in the woods Mrs. Clayberg ran through the trees trying to find supplies to survive. However, as she ran into a clearing, she was struck in the neck by an arrow. Thorson, the master hunter, had picked her off from above in his makeshift deerstand. Clayberg fell, moments later the cannon sounded, signaling her death. Meanwhile, Charma wandered back to the cornucopia. When she arrived, and the triumvirate saw her, they sent Rasmussen to settle terms. After a couple of minutes, Rasmussen returned to the group with Charma. She held in her hand three mints, which the boys accepted graciously. Charma would become their new ally.
About an hour later, the four english teachers, plus Miss Jensen,  found themselves cold and alone in the dark woods. Mrs. Whittington sat under the bough of an oak tree shaking in terror, scared that she would soon be killed. The group looked at each other, strategizing how they would take out their competitors. Suddenly, Ashlee broke out into frantic yelping. She had finally cracked. Terrified that her noise would attract the attention of the rest of the tributes, Mrs. Jensen walked over and kept her quiet, earning her trust in the group. Minutes later the cannon sounded.
End of Day One.
Day One losses
Megan Clayberg
Ashlee Whittington
Day One Vote Tally
Clayberg- 3
Whittington- 3
Bollard- 4
Solomon- 4
Williams- 4
Thorson- 4
Chaplin- 5
Weis- 5
Jensen- 6
Fank- 7
Jones- 10
Rassmussen- 10
Siewert- 12
Cutler- 13
VanderWert- 17
Van Vark- 19
Chase Petty ([email protected])