The Teacher Games Day Four Recap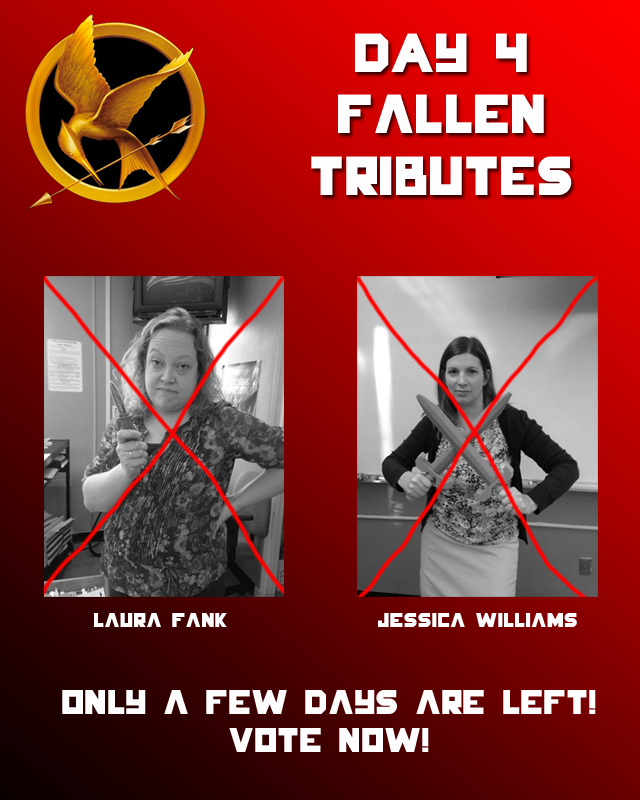 After four days in the arena, only five tributes remain. Alliances are beginning to fall apart and no one is safe anymore. The two deaths yesterday came from Miss Jensen, who decided it was time to end her alliance with the English teachers. She woke up early in the morning and saw that her two allies were still asleep. This was her chance. She reached into her backpack and pulled out her bookmarks, sharpened for maximum chances for paper cuts. She quickly disposed of them, grabbed her stuff, and ran into the woods.
As morning came, Cutler, Charma and Van Vark knew the worst had happened. Rasmussen was not coming back. They looked at each other and went on with their normal activities. Little did they know that Charma had betrayed them and killed Rasmussen, and little did they know she was plotting to get rid of them too.
End of Day 4
Vote Tally
Tami Jensen- 44
Wade Van Vark-48
Carma VanderWert- 53
Corey Thorson- 55
Douglas Cutler- 62
Chase Petty ([email protected])