Fun fall activities to do with friends and family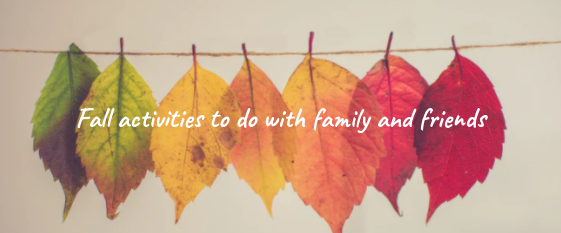 As the leaves change colors and as the weather cools down, you know you have made it to fall! Fall is great for many reasons, the first being beautiful, colorful leaves, and another because of Halloween. Most importantly there are endless amounts of fun, cozy, inexpensive fall activities you can do with friends and family.
         Fall brings many opportunities to cozy up inside as well as get out of the house, for little to no cost. Now it's time to break out our flannels and start the fall season here are some great things you can do this fall.
Activities to do outside 
Go apple picking.

Get lost in a corn maze.

Visit a pumpkin patch.

Go for a hike.

Collect colored leaves.

Run a race.
Activities to do with kids 
Take a hayride. 

Make a pinecone bird feeder. 

Watch a kids soccer game.

Go to a fall festival.

Have a picnic.

Make a scarecrow.

Jump into a leaf pile.
Activities with friends 
Make a bonfire.

Go for a road trip.

Go for a bike ride.

Have a cozy movie night.

Go to an old cemetery. 

Spend the day at an amusement park.
Fall themed food and drinks 
Bake an apple or pumpkin pie.

Make/eat a candy apple.

Drink apple cider.

Make chili.

Eat fall themed doughnuts.

Try seasonal fall drinks. 
Activities for the holidays
Carve your own pumpkin.

Go to a haunted house.

Watch scary movies.

Have a Halloween party.

Give out candy to the trick or treaters.

Host a Thanksgiving dinner.