McDonald's Gets a Makeover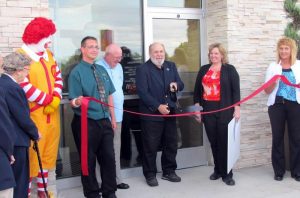 Sept. 12 Knoxville had the grand opening of their new and improved McDonald's. The town survived the summer without  Big Macs, as construction was taking place. This may not seem like a big deal to the average person, but for some fast food lovers, this was a deal of a lifetime. The reason: the first 100 customers in line received a free value meal once a week, for a year.
Senior Shaylynn Reed was one of the first in line, camping out at 9 p.m. Wednesday until 6 a.m. Thursday.  "We were the only people there. Every hour more people showed up. We had sort of a campout fiesta. There was even a full sized grill," said Reed. Customers swarmed the new building in hopes of receiving the sweet deal while others simply wanted to enjoy the taste of a juicy double cheeseburger in a new atmosphere. "It was very nice. Hardwood floors. Everything was digitalized," said Reed.

-Aleasha Reed ([email protected])