Get to Know: Kara Neumann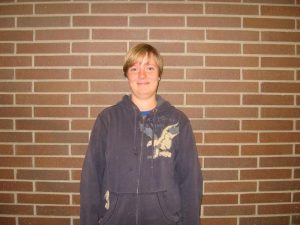 Kara Neumann, a sophomore, is from Stillwell, Okla. She is a new student here, she answered Pelladium.com's questions.
Do you like your classes? What class do you enjoy the most? 
"Yes I do, the classes I enjoy the most are advanced chemistry and ag class."
How is Pella High School different from your old school? 
"Pella High School is a lot bigger than my old school."
What do you think of Pella? What do you like about Pella so far? 
"I like Pella, and Pella is a lot cleaner, and it's about three times bigger than my old town."
Kara's Favorites
Food: Mom's homemade white lasagna
Music: Anything except for country and rap music
Movie: The Avengers
Hobbies: Watching movies, television and reading books.
•Andre Hernandez ([email protected])