Meet The New Girls' Basketball Coach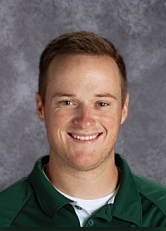 Blaine Forsythe is the new head girls' basketball coach
Q: What made you decide to apply to be the girls' basketball coach?
A: The coaches and players that were returning were a huge reason why I wanted to become the girls basketball coach. I have a great deal of respect for the history and tradition of the girls basketball program and want to continue that moving forward. I had a few conversations with the returning players and coaches that made me excited about the opportunity to lead them.
Q: What experience do you have coaching basketball?
A: This is my 7th year of coaching basketball. I coached for two years at the MS and most recently completed four years as the varsity assistant coach for the Pella HS boys' basketball teams.
Q: What's your favorite part of coaching basketball?
A: My favorite part of coaching basketball is leading student-athletes to reach their fullest potential on the court, in the classroom, and in the community.
Q: What is your coaching philosophy?
A: My philosophy is to create a standard of excellence in all facets of the experience. I think it is important to build skills for the sport of basketball and develop the student-athletes to be able to lead and achieve in the years to come in their own lives.
Q: What skills do you have that make you a good coach?
A: I am someone who cares deeply about the whole person. I build relationships with the student athletes in order for them to play with and build their confidence, hold them to a high standard, and play a style of basketball that is fun to be a part of.
Q: What is your goal for your team this season?
A: Our goal for this season is to get better each week and play our best basketball at the end of the season. We want to compete at the highest level each opportunity we get.