Conference Art Competition Showcases Pella Talent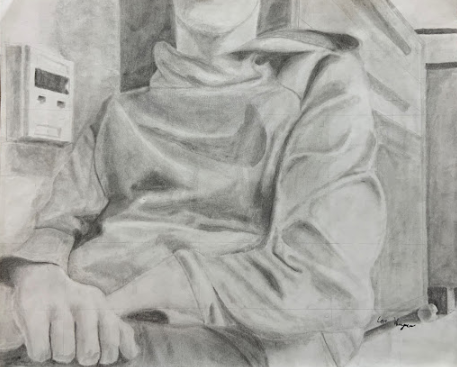 Pella High's art department hosted this year's Little Hawkeye Conference Art Day.  The event was held at Central College on April 8. Pella entered 20 art pieces and 12 received awards, including four 1st place ribbons. 
As an experienced art student, senior Willa Kelpe enjoyed her time at Art Day. She noted that her and her classmates "were able to see lots of other people's styles of art and new types of media." Kelpe was surprised to receive 2nd and 3rd place honors for two of her clay works, one which was created out of a mishap that occurred while designing it.
"The pot was knocked over while drying. [Even though] I didn't like the finished product, it did well," Kelpe explained.
Sophomore Cor Huyser, a first time participant, found the day to be enjoyable, and he was thankful for the opportunity "to see my art compared to others in our conference." Comparisons bid well for Huyser, as he took home the top prize in the graphite drawing contest as well as third prize for his colored pencil sketch. He is especially partial to the graphite drawing discipline for a number of reasons.
"Personally, my favorite type of art would have to be graphite pencils," said Huyser. "The beauty with drawing in graphite is that you can make a full on masterpiece or simply sketch out rough shapes."
Above all, Art Day reinforced the love of art that many Pella artists hold dear. Both Kelpe and Huyser agree that prospective artists are more than welcome in the art program.
"I would highly recommend the art program because it is a time where you can relax and not be stressed about other school work, but you are still learning new skills," Kelpe acknowledged. 
Huyser enjoys the art program because his instructor, Julie Stratton, advocates for relaxation. 
"Mrs. Stratton is really fun and super chill with everyone, and I think that everyone should take a class with her."